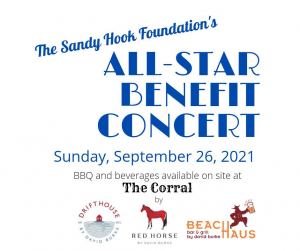 The summer doesn't have to be over!
The Sandy Hook Foundation is BACK with a great BENEFIT CONCERT on Sept. 26! Get your tix today at www.sandyhooknj.org
Doors: 12 noon
Music with great performers: 2 - 6 pm. Bring your beach chairs and head on down to Beach E at Sandy Hook to support the Sandy Hook Foundation
Great eats in store at "The Corral" with Red Horse by David Burke, DRIFTHOUSE by David Burke and Beachhaus.
Performers include:
The Haven: John O'Neill, Dan Corboy, John Amabile, Geoffrey Nicholas, Jeffrey White
Tim McLoone
Joe Jobonanno
Carl Gentry
Sam Sims and Kyle Ward
Lisa Sherman
Pat Guadagno
Karl Pfeil and Steve Russo
Lee Scott Howard and Bob Murdock
Layonne Holmes
Thank you Gateway National Recreation Area, Sandy Hook Unit!
See you at the beach!